MAGICIANS NEVER TELL THEIR SECRETS.
BUT WE'RE CAR FANATICS, SO HERE YOU GO.
How did we achieve the elusive feat of fuel efficiency, low emissions and outstanding driving performance together in the same vehicle?  By refusing to compromise.  And that meant starting from scratch and re-imagining what's possible.  It's a holistic system developed from the ground up to ensure each component is not only pushed to its full potential, but also works together seamlessly to create incredible fuel efficiency without sacrificing driving enjoyment. Here's a look behind the curtain to see how we did in.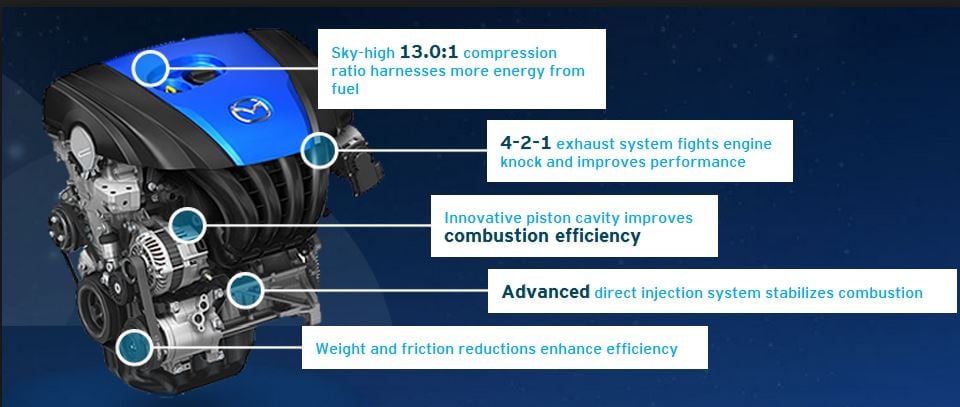 SKYACTIV-G
By 2020, 90% of the world will still be using gasoline or diesel combustion engines.  So how do we reduce emissions and increase fuel efficiency on a grand scale?  By re-imagining the internal combustion engine.  Current engines wast upwards to 70% of their energy potential, so we saw this as an enormous opportunity:  Create and engine that works better, uses less fuel and emits less Carbon Dioxide.  Our SKYACTIV-G 2.0-liter engine produces 10% to 15% more low/mid range torque, yet 15% lower fuel consumption and emissions than our previous 2.0-liter engine.  And the SKYACTIV-G 2.5L engine used on all automatic transmission and AWD models promises more power with ultra-low emissions and low fuel consumption as well.
SKYACTIV-DRIVE
Our engineers created a new kind of precise, high-performance automatic transmission that combines the direct, responsive feel of a manual transmission with the silky smoothness of an automatic.  It's instantly responsive, yet delivers 7% more efficiency than our previous generation automatic transmission.
SKYACTIV-MT
This 6 speed manual transmission has a short throw, inspired by the legendary Mazda MX-5 Miata.  It's also smaller, lighter and stronger than any we've built before.
SKYACTIV-CHASSIS
Engineered together with the SKYACTIV-Body to work in perfect harmony, the steering and suspension systems achieve two seemingly contradictory goals at once:  to be nimble at low speeds, yet stable at high speeds.  We also engineered them to be light, allowing for a more direct and agile feel.
SKYACTIV-BODY
We are constantly searching for new ways to help make you safer behind the wheel.  That's why Mazda was the first auto manufacturer to use ultra-high tensile-strength steel in the body, which is lighter than normal, yet stiffer and stronger.